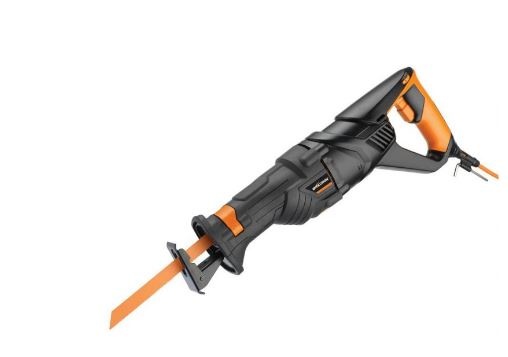 Evolution's R230RCP Reciprocating Saw is a versatile and powerful cutting tool that can easily cut through timber, plastic, plasterboard, and pipework. It's a great choice for construction, renovation, and even land clearing and pruning in the garden. 
With an 850W motor, adjustable speed, and a 28mm stroke length, the R230RCP can cut through wood up to 230mm thick and mild steel up to 20mm thick. The saw also comes with a metal pivot plate that minimizes vibration and blade breakage, making it easy to achieve optimum cutting efficiency. 
The R230RCP also features a 180° rotatable rear handle and an LED work-light next to the blade, making it easy to control and providing greater visibility around the cutting area. And with the tool-less blade change system and four included blades for different materials, the R230RCP is a convenient and efficient choice for any cutting job. 
So whether you're tackling construction, demolition, or tough cutting jobs around the home and garden, the R230RCP Reciprocating Saw has got you covered.