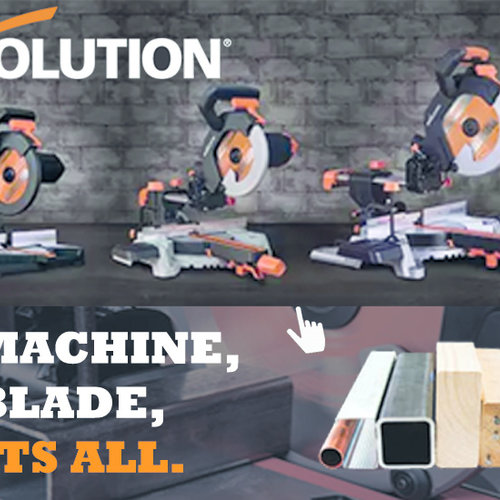 Evolution Power Tools Build Line
One for all, all for all!
Evolution Build® is the world's first and only sawing system that can handle (almost) all materials with one machine and saw blade. Thanks to the advanced TCT (Tungsten Carbide Tipped) technology with carbide teeth, the anti-reverse chip limiter and a fully hardened saw blade, you will effortlessly cut wood, aluminium, steel, plastic ... even wood with nails. Each machine comes with a multi-material (multifunctional) saw blade as standard, but there are also specially developed saws for wood or fine wood. Diamond blades complete the range so you can also cut through stone.
"Perfect for those who get to saw different materials on a daily basis!"
The result? With Evolution Build®, you are guaranteed perfect cuts and create less heat, dust and sparks, ensuring greater safety and comfort. Moreover, you work up to 4 times faster and the saw blade lasts up to 14.5 times longer compared to ordinary cutting discs. Combined with the powerful motors and ergonomic design, our tools thus guarantee powerful and long-lasting performance. 
Tip: also discover our 18V Li-Ion cordless cordless tools for even more flexibility!
Interested in our combopacks? Click here to discover our promotions.
Evolution Power Tools uses cookies to improve your experience on our web shop and to increase your ease of use. For more details, we invite you to read our cookie policy. For the best experience on our webshop, you can simply choose "Allow all cookies".
Manage cookies